Shop J. Herbin
You can purchase J. Herbin products online from the retailers listed below.
Please check with your favorite stationery, art supply or pen store to purchase J. Herbin locally.
In New York City, J. Herbin inks are carried by Janoff's Stationery, 2870 Broadway, between 111th & 112th Streets, New York 10025, 212-866-5747. You can stock up on your favorite Clairefontaine & Rhodia products there, too!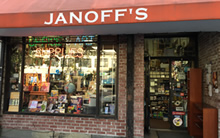 FOUNTAIN PEN INKS
SEALING WAX